Drama takes place every Friday throughout the year, from 3:15pm - 4:15pm. It is open to boys and girls in Years 5 and 6 and is one of our most popular extra curricular clubs. Drama is a great club if you love acting, dancing or singing but it is also a fantastic club if you are a little shy and would like to feel more confident. Each week the children take part in lots of fun drama games and then build towards their two annual performances for the school and their families (one at Christmas and one in the Summer).
"I go to Drama because I love performing. The best thing about it is working really hard all term on a play and then getting to share it with everyone when we perform." Olivia, Year 5
"I love the excitement of finding out which part I have." Lucy, Year 5
You will find details below of our current and past performances. Enjoy!
St Christopher's Presents
'Into the Clock'
A story inspired by a portal story written by
Leila Barlow in 4CW
We are excited to be performing our annual summer production. This year the idea for the play came from a story written by a pupil in year 4.
The children have been working hard to learn their lines and we look forward to seeing you for the evening performance on
Friday 19th July at 6pm
Costume suggestions
Madhatter- Large Hat, jacket and trousers.
March Hare- Waistcoat, trousers, bunny tail and ears.
Alice- Blue and White dress.
Mouse- Ears and black clothes.
Hook - Pirate Hat, long curled wig, hook, jacket and trousers.
Jack- Trousers, shirt and waistcoat.
Smee- Short trousers, pirate hat, shirt and waistcoat.
Maggie- Night dress.
Teachers-costumes inspired by the staff they play.
Dancers- 50's style costumes.
If children act and dance, they will only need one costume.
Please do not go to any expense. See Mrs Corstin if you have any questions.
St Christopher's presents a January Panto of
The Snow Queen
Friday 25th January 6pm
Children have been allocated 4 tickets per family. On the day of the performance the children should be collected from school at the normal time of 3.15pm and return to school in costume for 5.15pm ready for a 6pm start.
There will be an additional Drama rehearsal on Thursday 17th January from 3.15pm-4.30pm for year 6 children only.
Costumes
Please do not go to any expense-see Mrs Corstin if you are struggling to get hold of anything
Snow Queen – white or blue dress/crown/ cloak

Kai-Trousers, waistcoat, scarf and flat cap

Gerda-Dress, tights, muff, coat, hat

Trolls-Green, brown or camouflage print clothing

Narrators-Seasonal inspired costumes (discussed with children)

Kaja (Robber Girl)- dress, boots, cloak

Rain-brown clothes, reindeer antlers

Deer-brown clothes, reindeer antlers

Hagatha (Grandmother)-dress, tights, shawl

Snowflake dancers and reflection dancers-White or silver dress, tights

Ice Ice dancers-hooded jumper, cap, jeans, trainers
A lucky few will get to visit The Everyman Theatre to watch A rock n roll version before Christmas.
Trip
Everyman Theatre Hope Street
Tuesday 11th December.
Children to be collected from the theatre.
Thank you
DRAMA IS CANCELLED FRIDAY 4TH MAY. See you all Friday 11th May
St Christopher's
brings you Roald Dahl's
Matilda
St Christopher's
brings you
A Christmas Carol,
Thursday 8th December 7pm!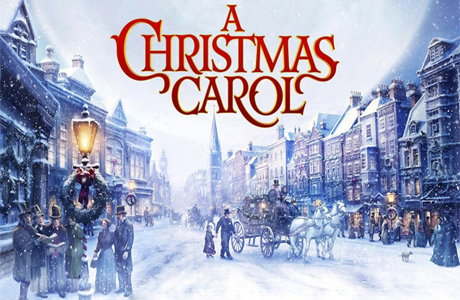 Thank you to all our stars who have been working hard learning lines for our production of 'A Christmas Carol'. Please make time to research the story, either by reading the Charles Dickens story together or watching one of the many adaptations (Jim Carey, Muppet's Christmas Carol, Scrooged)
We are hoping to perform Thursday 8th December at 7pm for family. Each child will be given 4 tickets free of charge
Below I have listed suggested costume ideas. I would like to highlight that we do not want families to go to any expense, but to work with what you already have at home.
Scrooge- Black suit jacket/coat, top hat, white shirt and tie (also bed hat and dressing gown)
Jacob Marley-Grey/black clothes, chains (see image)
Ghost of Christmas Past-White fairy dress, tights, wings (see image)
Ghost of Christmas Present-Long green coat/ dressing gown or cloak, holy wreath for head (see image)
Ghost of Christmas Future-Long, black hooded cloak (see image)
Scrooge's sister-Night dress and dressing gown
Young Scrooge-dressing gown and bed hat
Jacob Marley dancers-Black leggings or tights, black long sleeved t-shirt or leotard, messy hair
Sugar Plum dancer-White, pink or silver dress with fairy wings
Grave Digger dancers-Black clothes, hooded cloak
Carol singers and all other cast members to wear typical Victorian costumes please see images below.
For girls, a long skirt, shirt and shawl with bonnet, hat or hand muff would suit.
For boys trousers, knee socks, flat cap, shirt and waist coat.
If you are struggling with a costume please see Miss Hargreaves Thursday or Friday after school.
We look forward to seeing you all on the night and thank you for your continued support.
Beauty and the Beast
Tuesday 19th July 7pm
Our Drama children have been working very hard on their end of year production of Beauty and the Beast. We are hoping to perform on Tuesday 19th July at 7pm, tickets will be sent out shortly 4 per child. We have been busy making costumes as I'm sure you can appreciate this is a challenging aspect of our chosen play. I have listed below costume ideas, if children could start bringing them to class 1EH in a bag with their name on.
Beast-Brown trousers/blue jacket/white shirt/yellow tie
Belle-Blue dress/Yellow dress
Lumiere- Yellow clothes
Cogsworth- Brown clothes
Mrs Potts-White clothes
Gaston-Black trousers/red t-shirt/yellow gloves
Baker- Apron / hat
Book seller- Black clothes/Apron
Wolf dancers- Grey leggings/leotard or t-shirt/tail/ears
Be our guest dancers- white or silver clothes
Wardrobe- Pink clothes/cape
Chip-White clothes
Narrators- Black clothes/dress
Enchantress- Pretty dress/shawl
Lafou- Brown clothes/jacket
Maurice-Brown clothes/apron
St Christopher's brings you 'The Grinch' 16th December
Get a head start with costumes
The below are just suggestions, please get inspiration from the movie and the internet. I have provided some images as guidance. Please do not go to unnecessary expense to provide your child with a costume. School will work hard on hair and face paint.
The Grinch-Green clothes, fur gloves, green beard, red Santa hat
Cindy Lou- Red dress, stripy tights/socks
Mayor-Suit, shirt, cloak
Lou who-bright clothes, hat and scarf
Teacher-Red and Green clothes/stripy tights
All Cast should wear Whoville style and colours with stripes where possible.
I hope you are all busy learning your lines as the night will soon be here.
Our evening production will be 16th December at 7pm-you will be informed if this dates changes
Key costume suggestions
bright, stripy, silly hair, scarf and gloves, fur, boots, ribbons, candy canes...have fun working on your costume.
We have been enjoying role playing some traditional tale characters in preparation for our big summer production of a St Christophers version of Into the Woods. Miss Hargreaves will soon be casting some big parts and working alongside Mr Hints to add great song and dance. We have a tough job to top Peter Pan, but I am confident we can do it.
Its great to see some new faces!!
St Christopher's goes,
'Into the woods'
singing, dancing and two very ugly sister.
We are in the process of working very hard on our next production. We will be performing a St Christopher's version of the musical 'Into the Woods', a classic tale with a twist.
We are hoping to do one evening performance-date to be confirmed.
Tickets will be free of charge and available a week prior to the performance.
This will be our current year six's final performance with us and we hope to send them off on a high with great memories.
Get a head start with your costume
Baker-Trousers/shirt/flat cap
Wife-dress/apron/mop hat
Esmeralda- black dress and cape with hood if possible (witch costume)
Wolf-Wolf mask, jeans, waistcoat, shirt
Little Reds Mother-Dress, apron
Jack-T-shirt, shorts, knee socks, waistcoat, flat cap
Jacks mother-Dress, apron, mop hat
Stepmother-long black dress
Ugly sisters-dress/and wig
Forest dancers (chandelier) Rag doll style costume-knee length black dress or skirt, stripy knee socks or tights (any colour), black or white t-shirt, hair in bunches
Goldilocks-Blue dress/white t-shirt
Bears-brown clothes/bear mask or head piece.
Sleeping beauty/Cinderella- pretty dress.
School will provide costumes for Little Red, Maleficent and the guard
Get a head start with your costume
St Christopher's presents
Peter Pan
Our Christmas production of Peter Pan was a roaring success. A huge thankyou to all of the staff and parents who helped with make-up and costume. It was a team effort!